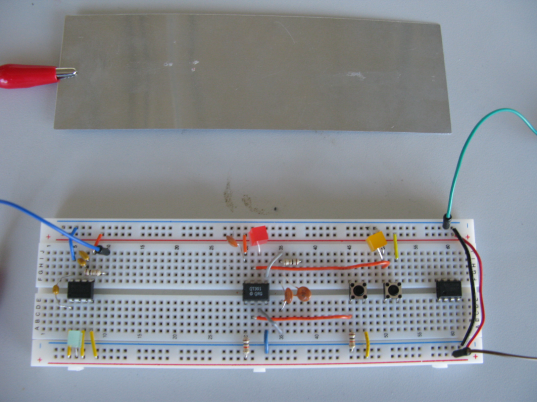 Capacitive Touch Sensors are ideal for when you would like to sense if a person is close to or touching an object or area of interest. These sensors are known as Charge-Transfer Sensors, and the ones shown below (QT113 & QT301) are made by Quantum. The QT113 provides a digital output, while the QT301 provides an analog output.
Capacitive sensors take advantage of the fact that the body always stores a small electrical charge – which is exchanged and equalised upon contact with another person or object. The capacitive sensors used below can be tuned to detect a persons electrical charge a couple of mm's from the surface of an object up to 120mm's through a non conductive layer i.e. fabric, glass, cardboard etc.
Both the QT113 & QT301 require an electrode or conductor (aluminium foil, conductive thread or silver organza) be connected to the sensor – this becomes your touch sensing area. A shielded wire should be used to connect the electrode to the sensor, if you want to localise the sensing area and avoid incorrect trigger actions. As, the connection between the electrode and capacitive sensor also reacts to changes in capacitance.
Shielded wire is commonly used in video and audio cables. When you strip back the outer insulation of the wire, you will find a mesh wrapping or foil which surrounds the inner wire. Connect the mesh wrapping or foil to GND of your circuit, this will make the connection between the capacitive sensor and the electrode insensitive to changes in capacitance.