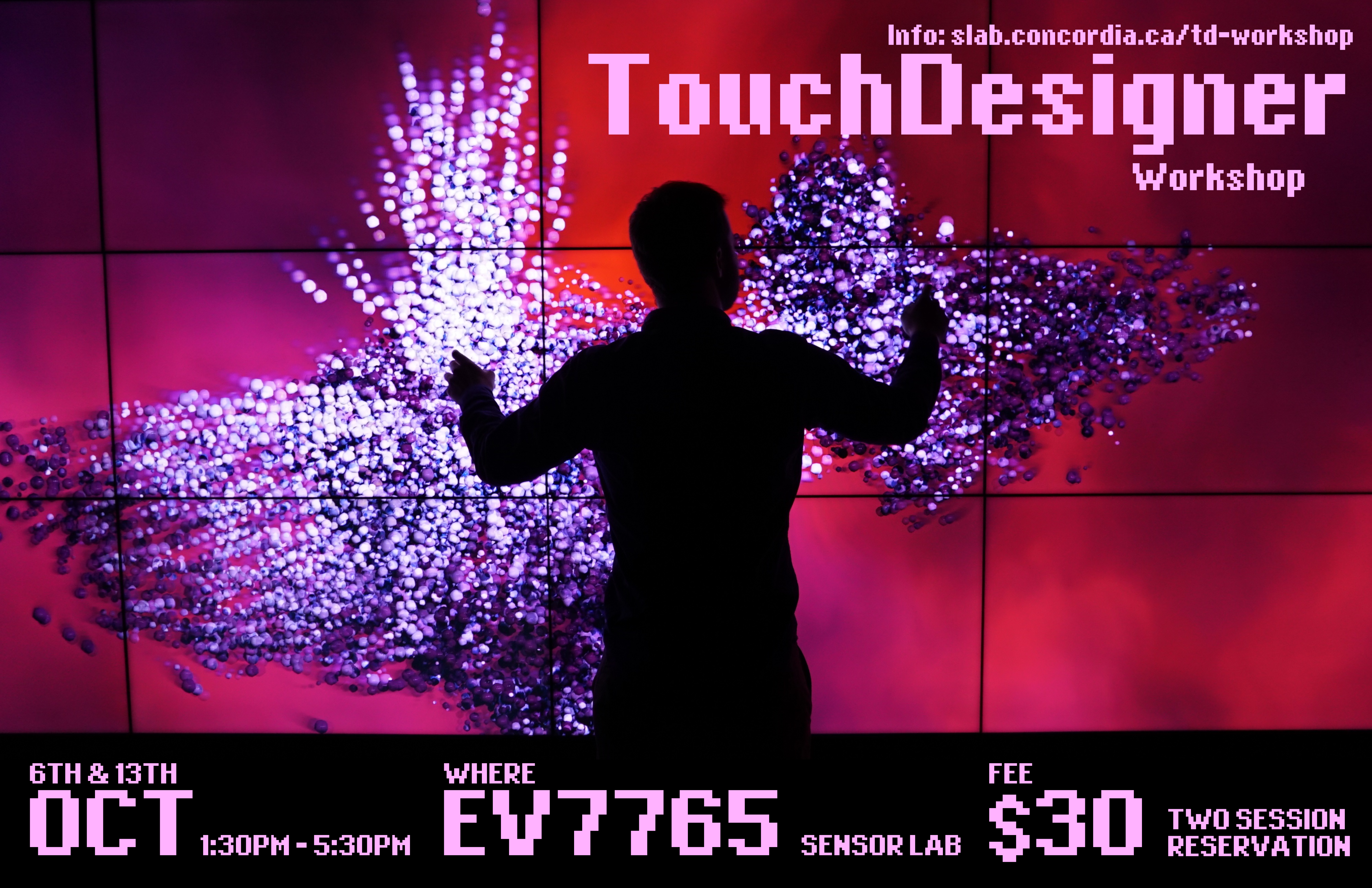 TOUCHDESIGNER WORKSHOP 2018
Concordia University, Faculty of Fine Arts, Department of Design & Computation Arts
GENERAL WORKSHOP INFORMATION
WORKSHOP

TouchDesigner Workshop – Two Session

WORKSHOP HOST(S)

Elio | Sabine | Diana [ Lab Coordinators @ Dept. Design & Computation Arts ]

WORKSHOP INSTRUCTOR

Michel Didier

WORKSHOP INSTRUCTOR EMAIL

michel.didier90 at gmail.com

WORKSHOP LOCATION

Sensor Lab EV 7.765 (1515 Ste. Catherine Street West)

WORKSHOP DATE & TIME

Part One: 6th October @ 13H30 to 17H30
Part Two: 13th October @ 13H30 to 17H30
WORKSHOP REGISTRATION
GENERAL INFO

In order to attend the TouchDesigner Workshop, we require that interested participants formally Register and Book ($30 for Two Sessions) in advance of the proposed workshop start date of October 6th 2018. Registration for the TouchDesigner Workshop closes on October 3rd.

Registration is open to current students and alumni of the Department of Design & Computation Arts – MDes, Design & Computation Arts Students. If you are not in Dept. Design & Comp. Arts, please contact the Sensor Lab Coordinator in person (EV 7.765).

WORKSHOP CAPACITY

16 Slots Available

REGISTER ONLINE

Register Online TouchDesigner Workshop – Online Registration handled via Eventbrite

REGISTER IN PERSON

Contact Elio Bidinost [ Sensor Lab Coordinator ].

QUESTIONS

Contact Elio Bidinost in person or via email [ sensor.lab at concordia.ca ]
Disclaimer: In the event of extraordinary circumstances beyond our or the instructor's control, the workshop content is subject to change and may change without prior notice.
DESCRIPTION
We (Lab Coordinators) are thrilled to host Michel Didier – a Concordia Alumni from Computation Arts. Michel will introduce and lead a two session workshop on TouchDesigner. The TouchDesigner workshop will be held on Saturday afternoon from 13H30 to 17H30 on October 6th & October 13th.
TouchDesigner is a visual development platform that equips you with the tools you need to create stunning realtime projects and rich user experiences. Whether you're creating interactive media systems, architectural projections, live music visuals, or simply rapid-prototyping your latest creative impulse, TD is the platform that can do it all.
PART ONE – 6TH OCTOBER @ 13H30
OVERVIEW

Introduction (Michel Didier)
Introduction of TouchDesigner
The TouchDesigner Interface
The Operator Families
How to use Operators for Videos, Images & Geometries and Mathematical Operations
Materials, Camera, Lights and Rendering
Interoperability, the INs and OUTs of TouchDesigner
Introduction to Custom Components
UI Components
Perform: Ready for Output
PART TWO – 13TH OCTOBER @ 13H30
OVERVIEW

Q & A, Review of Part One
Working with External Devices
Etude: Utilising Smartphone Sensors to Drive Visuals
Instancing
Etude: Audio-Reactive Visuals
Lights, Shadows, Materials, Camera and Rendering Tricks
Programming in TouchDesigner: Python, GLSL, C++
Debugging, Performance Optimisation
Q & A, Closing Comments
PRE-WORKSHOP PREPARATION: PARTICIPANT'S COMPUTER
OVERVIEW

Review TouchDesigner System Requirements

Windows Laptop with Microsoft Windows >= 7 SP1
Macbook Pro with Apple macOS >= 10.11
Integrated Intel Graphics >= HD4000 (Macbook Pro Intel Iris)
Discrete GPU – NVIDIA >= GeForce 600 Series
Discrete GPU – AMD >= HD 7000 Series
3-Button Mouse (Scroll Wheel)
Operating System (Windows or macOS on Current Release)
GPU Driver (Windows or macOS on Current Release)

Upon verification that your Windows Laptop or Macbook Pro sufficiently addresses the TouchDesigner System Requirements – Download and Install TouchDesigner (099 Current Build).

Lastly, after successful installation and initial execution of TouchDesigner, Derivative requires that you create a Derivative User Account to license and use TouchDesigner – Free Non-Commercial License is required for the purpose of this workshop.

If you require any Technical Assistance with the above procedure, please contact the Workshop Instructor via email for assistance or support.